July 31, 2018 there is a party because … then Paul Sutmuller, founder of our foundation, turns 70! Therefore…. 7 (o) BURNING QUESTIONS TO PAUL!

1. Of all the trips you made, what was the most beautiful and why?
Nearly 50 years ago, in 1969, I was sent to West Africa. Since then I made many journeys for different organisations, and when I retired in 2010 I continued to do so for the Van Doorn Foundation. To label one of those journeys as the most beautiful is a mission impossible. But I have experienced my trip through West Africa, in January 2014, as special and nostalgic because I returned to the countries where I once started.
2. Of all the countries you have visited, which one appeals to you the most and why?
Every country appeals to me for their diversity; I don't have a favourite country. The sub-Saharan countries do make a big impression on me because it nature does not cooperate in any way and the population must be inventive to survive. They must be able to withstand the hardship and always have the faith and a passion that they will survive. The people in the sub-Saharan countries have the relatively hardest time, they complain the least and are satisfied with the small things of the day. These countries command a lot of admiration and incredible respect for their people.
Such as the inventive population in Mali: They drilled wells in the rocks to collect rainwater in it, because the water stays there longer than in the barrages on dry ground where it evaporates and sinks faster. They laid out gardens on the rocks by bringing soil from miles away to the rocks and creating terraces for horticulture. Experts may have advised the population in those areas to migrate, but the population itself has come up with solutions that no expert has thought of. That confirms to me that we must listen to the solutions that devise local populations themselves for their problems.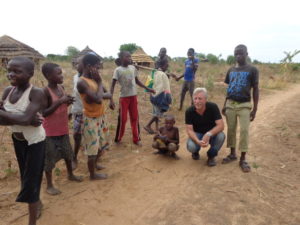 3. Of all the projects you have done, of which one are you most satisfied?
More than satisfaction is my respect for the local organizations that have achieved something. On my retina, for example, are the project in the Segou region of Mali where a horticultural project has persuaded parents to let girls go to school, the project in the Serengenti region in Tanzania where girls who have fled from circumcision are provided shelter in a Safe House and learn a craft so that they become financially independent, and the project in Mwanza in Tanzania where a moving training program teaches people with disabilities crafts in their own neighbourhood and provides them tools to generate their own income. It is just a selection of the many wonderful projects!
4. Where haven't you been yet but is still on your bucket list?
I have not yet been to Zambia for the Van De Doorn Foundation because we have not yet received any applications from there. It is possible that we will first have to carry out a project there together with one of our partners (Gered Gereedschap, Tools To Work, Tools4Work) before we visit that country. Our approach – where the initiative must come from a local organisation because we do not want to propose them solutions – means that we have to be patient because we are not yet well known in Zambia. But that may just change all of a sudden!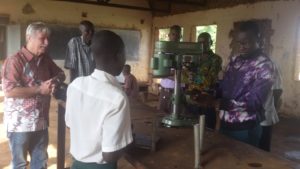 5. What do you like most about the Van Doorn Foundation or what are you most proud of?
What I like is that the Foundation is different from other organisations. The majority of the projects I worked for through large development organizations were large-scale projects. Large budgets were made available and had to be spent. As a result, also mainly large local organisations were involved in the projects. The Foundation explicitly uses a small-scale approach with local organisations that are directly involved with the target group and have better insight into how a goal can be achieved. We not only support them financially, but also with advice if needed. For us it is not the spending of the money but the achievement of the goal that is most important, as well as sustainability of the effort and independence of the local organisations from sponsors.
Young people who have to stop their education because their family does not have sufficient financial resources can contact us. I am proud that "giving underprivileged young people a chance" is not just a slogan for the Foundation, but that we really mean it. The search for ways to reach out to the underprivileged is not always easy, but that does not matter. Our target group has been struggling for a long time, so our work may also be. If we are to achieve the best results!
6. What would you like to achieve with the Van Doorn Foundation?
Small-scale, passion, engagement and cooperation with local organisations that are directly involved with the target group – that must remain paramount and that is what makes the Foundation special. I would like to show Africa to everybody. Show that besides the beautiful safari parks there is also a lot of "survival" for people in the slums and in the countryside. Not to arouse pity, but understanding. But also to show the success of the small-scale approach. In addition, I would like the Foundation to be able to collaborate more with other organisations that are in the same way involved in development work. I think it is important to spread 'best practices' and to encourage and persuade others to adopt a similar approach!
7. Do you want to tell our newsletter readers anything else?
In my work for people living in slums and in poor and isolated rural communities, I was mainly driven by the infinite respect that people manage to survive in miserable conditions, continue to hope, and strive for a better life. Too often have "solutions" been put forward (as bulldozing of slums ….) and rarely listened to the ideas that the population had about improving living conditions for themselves and their children. Unfortunately, the largest donors are not always the best listeners, while listening and supporting local initiatives has always led to more sustainable solutions.
The Foundation wants to support these unique local initiatives. Small investments with a major impact: vocational training for a street child, providing a school with tools so that more young people can learn a skill, helping young people to start their own business with microcredits, supporting an organisation that shelter girls who fled from circumcision in a Safe house, helping to create internship places for young people who are in danger of ending up in crime and prostitution and so on. It are the small-scale projects with a sustainable major impact that make the work of the Foundation useful. And it does an incredibly pleasure to see the real 'champions' succeed: that is not us as a foundation, but it are the street children who want to learn and apply for a scholarship and the local organisations that give underprivileged youngsters the chance and opportunity to learn a trade….!