What do we want to achieve?
Our way to fulfil our mission is to finance the education of young people aged 12 to 25 years who live in one of our targeted countries and who will not be able to study without financial support. In general these are often orphans or children from one-parent families.
The Foundation will in principle only consider applications for funding vocational and professional training. This refers to any form of practical and theoretical education which prepares for exercising a profession, trade or employment, or teaches the necessary skills for such a profession, trade or employment.
Study funding may be requested for both basic vocational or professional training (such as for carpenter, bricklayer, electrician, mechanic, hairdresser, tailor), secondary vocational or professional (such as for bookkeeper, cook, computer technician, nurse, midwife) and higher professional education (such as for teacher, doctor, architect, horticulturist, etc.). The job prospects for those with such training is greatest (greater than e.g. a university degree studies), and of course we want to use our (limited) resources as effectively as possible.
The maximum study funding (scholarship) per student per academic year is € 500. The Foundation only contributes to the study expenses or tuition fees (and not for accommodation and cost of living). The Foundation also does not fund overdue school fees or tuition fees (arrears).
The Foundation will allocate annually € 12,000 for study financing, which is entirely funded from the Foundation's own resources.
Grant agreements will be signed with the students, recipients of a scholarship, in which mutual obligations are defined, such as the commitment to fund the study by the Foundation and the reporting obligations of the student (accounting for the funding).
Targeted countries
The Foundation will focus its support on young people in Africa. And, since the Foundation considers it important to maintain contact with the educational institutions and projects it supports and wants to be able to visit them regularly, the Foundation has, out of capacity considerations, decided to focus on seven countries, namely Cameroon, Ghana, Kenya, Mali, Tanzania, Uganda and Zambia.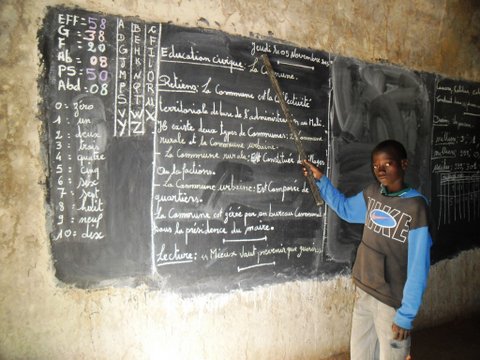 We keep our promises!
Twice a year (in May and in December) received applications for study funding are reviewed by our board and approved or rejected by a majority vote. Only applications that meet our eligibility criteria are reviewed.
More resources for the Foundation mean that more young people can be offered vocational training. More money does not mean that we suddenly start funding other kinds of activities or become more relaxed with our review criteria. You can be confident that your money will be spent the way we promised!